Search Rankings Matter
When you need to build an online presence for your business, a website is the first, most crucial step. With a website, people can find your business through search engine results and see what you have to offer.
Sounds easy, right? Except sometimes it doesn't work out.
You've got a website, the pages are built out and your contact form is linked to your email. Yet no one is reaching out. This could be because your website isn't on Google.
Getting on Google can be challenging. In addition to building a website for your business, you need to optimize so it shows up in the search results. Without an understanding of Google and a strategy in place to make your website search engine friendly, it won't show up.
Here are a few reasons why your website might not be ranking and what you can do to fix it:
---
Table of Contents for "Why is My Website Not Showing Up On Google"
---
Common Reasons Why Your Website Might Not Be Ranking on Search Engines
1. Your Website Has Not Been Indexed
When your website has just been launched, one of the most important steps is to index it on Google Search Console. Google's algorithm constantly crawls pages on the internet using links on indexed websites to decide how to rank them.
If your website isn't indexed, odds are the search engine doesn't know it exists.
If you've tried to index the website but it won't, then you might be blocking it with a "noindex" meta tag. If this HTML code has been accidentally added to your pages, then it's telling Google not to index them. Make sure to remove this so search engines can find your website, index it and let others reach it in the search results.
Pro-Tip: Running a search for site:yourwebsite.com will check to see if Google knows your website exists.
2. Your Website is Too Slow
Page loading speed is a huge factor that goes into deciding whether or not your website will be included in search results. Google's main consideration when ranking websites is user experience (the experience someone is having when using your website, especially with how easy it is) – it wants to find the best sites for its users, and will therefore only rank ones that have quality content and are easier to use.
If your website or individual pages are taking too long to load, then it can frustrate users and deter them from spending time on your website. Google will notice this and stop including your site in the rank results.
Pro-Tip: Try using Pagespeed Insights by Google. Simply enter your website URL and it will run a test to grade your website speed on mobile and desktop devices.
3. Your Keywords Are Not Competitive
Search Engine Optimization (SEO) is important to understand if you want your website to rank on Google. By knowing how to optimize your content to make the site Google-friendly, you need to know what search engines look for.
Keywords are a great way to add SEO value to your content and get your website to rank for certain things. They are a specific word or short phrase that is relevant to your site and industry that might be what people use to search for services like yours.
Unfortunately, there's more to writing relevant keywords than you think. If you choose to use keywords that are highly competitive, that many websites of your industry use, then it will be harder to get your website to appear for that keyword.
For example, if you use "website design," as a keyword, while it might describe what you do well, there are hundreds or even thousands of other web design companies nationwide who also use that as a keyword. It will be hard for your website to compete with all of them.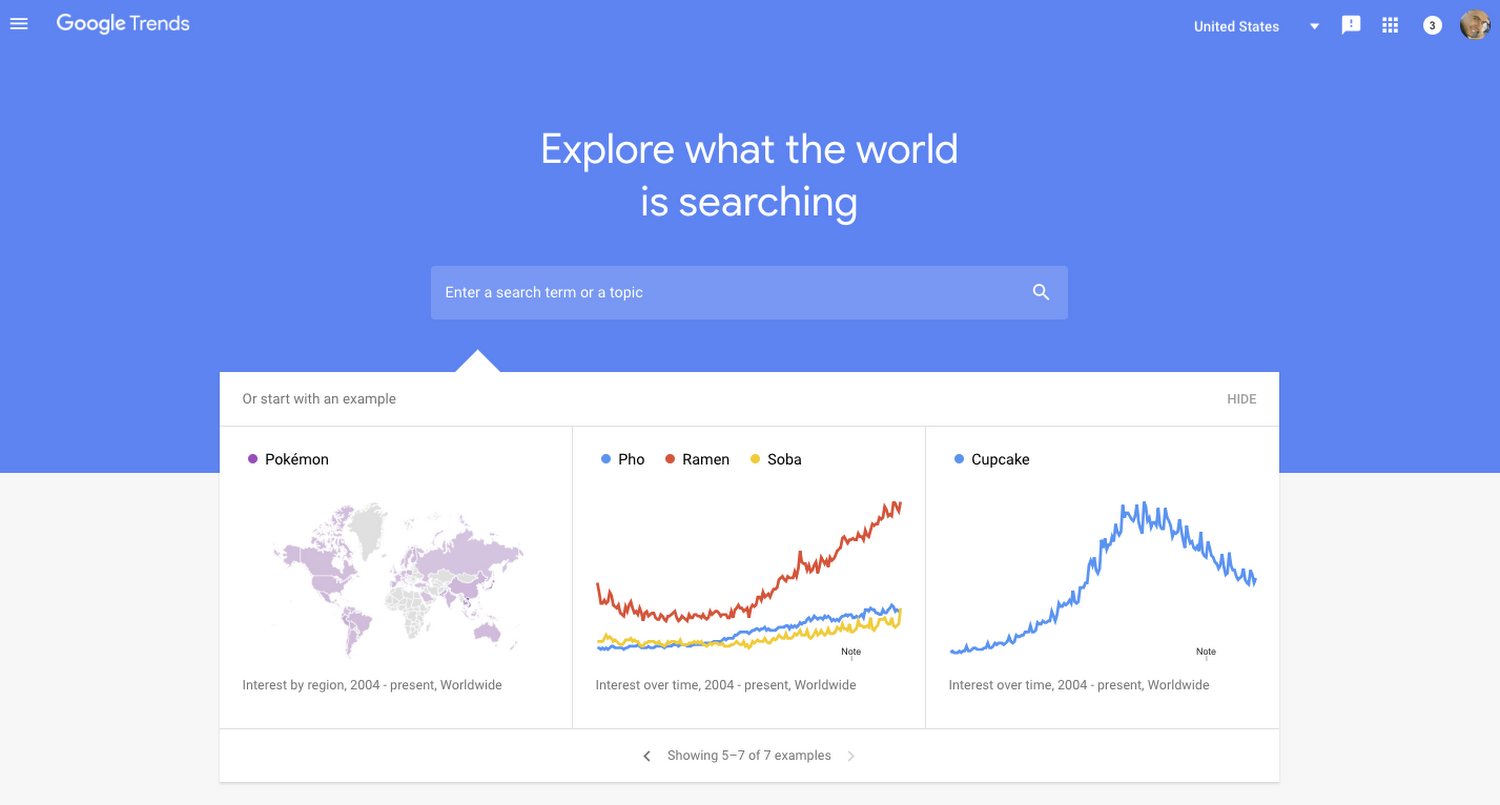 Pro-Tip: Want to see if your keyword ideas have potential? Try using Google Trends and type in your keyword ideas to see if there is any volume. Be sure to use a location in your keyword to get more specific to your area (Example: Web Design Richmond VA)
4. You Have Low-Quality Content
Content is the backbone of your website – it's what grabs a potential client's attention and showcases why your product or service benefits them. Content is a key to conversion, which is why if it isn't written well it could negatively impact your website.
When you're writing copy for your site, it should be impactful and unique with high readability.
Common issues or mistakes that you can make include:
Content that isn't relevant
Content that doesn't match the goal of the website
Duplicate or plagiarized content
All of these will create low-quality content that doesn't engage the reader. If people are not prompted to keep reading, they will leave your site. Search engines will take notice if your content is causing users to leave your website and rank you low, or even not at all.
Fact: The reason why duplicate content is bad is because it splits the domain authority of your URLs between the pages.
5. Your Website Has Been Penalized By Google
If your website has done something that goes against Google's Webmaster guidelines, then it may be penalized and taken off the search results. This can happen if your site has spam links, duplicate content or has been hacked.
Thankfully, you can request a reconsideration and get the penalty lifted once you've taken care of the issue. Until the problem is resolved, though, your website will not be found.
How to Get Your Website to Show Up on Google
Once you've figured out why your website is not ranking, the next step is addressing these problems and finding a way to solve them.
Quick Fixes
If you've just published your website, one of the easiest ways to get your website to start ranking is to look at the technical fixes you can make.
1. Create a Listing
Submitting your website to Google Search Console is the best way to get it seen by the search engine giant and let it know your site exists. You can index the pages on your website to help Google keep up with your site and crawl it.
Fact: You will have to verify your business to finish the listing. This includes receiving a postcard to your physical business address to verify your location. You might also receive an email verification.
2. Submit a Sitemap
If you used WordPress to create your website, there are many plugins that will create a sitemap for you. This is a map of your website's pages. Once you've got it created, submit your sitemap to Search Console (you should have it ready before you even create your listing) so Google knows what pages your site contains.
If your technical issues extend past submitting your website, you may need to conduct a technical SEO audit. Server crashes, HTTP errors and errors in your navigation have poor user experience and can drive users away.
Figuring out that is causing these issues and taking the necessary steps to fix them will not only make your website work better, it will appeal to potential clients.
If you've done all the technical solutions for indexing and your website still isn't showing up, then your problem might lie in the actual content. User experience is all about what people can gain from your site, which means your website needs to have value. If Google can't figure out what you're providing, then it won't show you.
One of the best ways to add value to your website is optimizing the content to be user and Google-friendly through SEO techniques.
Optimizing Your Site With SEO Tactics
SEO is one of the best ways to attract more potential clients and get your website to compete in the Google search results. By strategically planning and optimizing your content, you can organically reach your target audience and drive more people to your website.
Common SEO tactics include:
Adding Quality Keywords
Adding Location-Specific Language
Including Page Hierarchy
Writing Good Meta Titles and Descriptions
Backlinking with Quality Websites
There are over 200 ranking factors that Google looks for when crawling your website. Through SEO techniques like these and more, you can promote your website to people who are looking for the services you offer with quality content that engages your audience.
SEO Specialists Who Can Help Your Website Show Up On Google
If your website is not showing up on Google, one of the best ways to get it ranking is through SEO. By using quality SEO techniques, you can improve your website's visibility and get higher in the search results.
The path to successful SEO requires strategic research and constant maintenance – regular updates will keep your website relevant and show Google that it's always up-to-date. Between running your business and balancing your personal life, you might not have the time to make these constant SEO updates.
That's where Key Web comes in.
As a premier digital marketing company based in Richmond, VA, Key Web's SEO specialists are knowledgeable in the craft and have experience optimizing business websites to reach their target audience.
If you need an SEO specialist that can optimize your website to be Google-friendly with content that users will engage with, Key Web can help with our affordable SEO maintenance services.
If you want your website to show up and start ranking on Google, see how Key Web can help grow your business.